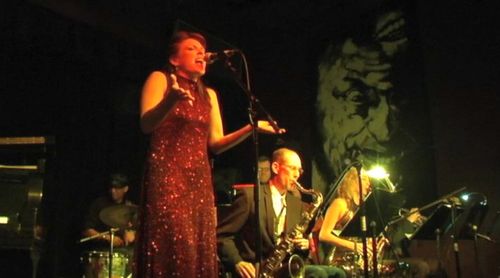 Hopscotch is the songwriting duo of jazz pianist & composer Charlie Hiestand and jazz vocalist & songwriter Jeanie Mishler.  Along with standards from the Great American Songbook, they've collaborated with a great collection of Seattle players to bring to life songs they've co-written and arranged. 
Their 2014 debut album, HOPSCOTCH, received instant radio play at jazz stations across the country, including but not limited to KKJZ, Los Angeles, CA, KSDS, San Diego, CA, WKGC, Panama City, FL, WJSU, Jackson, MS, KNIK, Anchorage, AK to name a few. 
Influenced by bands like Pink Martini, this seven piece jazz band serves up both standards and original swing, latin, and blues tunes with a touch of quirky comedy and tap dancing thrown in. 
They've developed a sound that is simultaneously both retro and current with grooves that give them a fresh feel.  "Hopscotch features the fluid vocal styling of the very talented Jean Mishler fronting an ensemble of Seattle's best players on a set of fresh poppy jazz infused with classic style."   Rick J Bowen- Seattle Examiner.
HOPSCOTCH is the songwriting duo of pianist/composer Charlie Hiestand and singer/songwriter Jeanie Mishler. In the tradition of big bands and influenced by Euro band Pink Martini, this smaller band has written and arranged their own music delivered with a killer horn and rhythm section made up of some great Seattle players. Along with their original swing, latin, and blues tunes, they serve up fresh arrangements of pop songs and jazz standards with a touch of comedy and tap dancing thrown in.
Charlie Hiestand is the pianist, composer, arranger and co-leader of the band Hopscotch. As a child, Charlie was classically trained on the piano and taught himself how to play guitar and bass upside down and backwards. (Literally! He is left handed!) 
In high school he played with a number of jazz and rock bands in the San Francisco Bay Area, and touring locally with a Portuguese band. 
He toured Europe as a freshman in college with a big band from the Bay Area. Charlie then went on to receive a B.M. from Berklee College of Music, an M. A. from Mills College and a D. M. A. in composition from the University of Washington. 
Charlie has produced several record albums, scored music for films, worked in musical theater playing both bass and piano and directing, he also has been and is currently a music director for Catholic churches. He currently teaches music theory, piano and bass in the Seattle area. 
Check out their album on our website: www.hopscotchjazz.com